by Irene Melin
Grandma and Grandpa Wise (Mr. and Mrs. Arthur Wise Sr.) moved from Vegreville in the spring of 1919. They had come from Hull, England some years earlier with their family of Lily, Fred, Minnie, Eddie, Amy, Audrey and Arthur. For some time they lived in the old Simpson house which had been built by John Sloan, a cowboy from Oregon.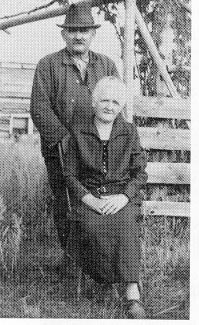 Mr and Mrs Arthur Wise Sr
Arthur Wise Jr. was still living with his parents but returned to Vegreville from time to time and lived there with his sister Amy and her husband, Chris Nelson (my parents).
Arthur and Thelma Wise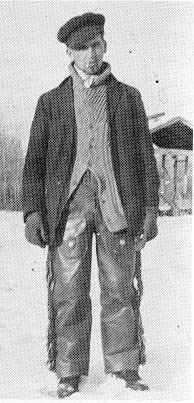 1920: Fred Wise
Later, Wises bought the Louie Sorensori place. They lived there a couple of years before moving to their homestead which was directly south of Chris Nelson's homestead. Fred  Wise   homesteaded  the  Fred  Lorenson place and built a log house on it. Eddie Wise homesteaded, after the first war, the land that was later Nelson Goetling's, but he never built on it. Eddie lived with his folks until he married Velma Dahlgren and they moved to B.C.
Grandma and Grandpa are buried in the Ferguson Flats cemetery. The only one of their children still living is Audrey, Mrs. Alec Forgie of White Rock, B.C.