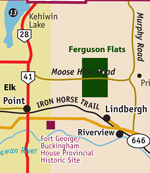 by Marvin Bjornstad
In 1905 the birth of the new province of Alberta started a bit of a land rush. As the survey was completed more and more settlers moved out in 1908  and more in 1911. The small community of Ferguson Flats got its start in this time. A slow growing agricultural industry encouraged more families to move into the area. With the building of some schools the community began to grow. Although Post Offices and stores started the whole community was very rural. Some community development happened as community halls were built to provide a social gathering place and room for special events like weddings and funerals.
The coming of the railroad to the general area in the 1920s provided some much needed work to earn off farm income, always a necessity for starting farmers and their growing families.
The slow centralization of schools marked another change; although this could not happen before better roads. Shortly after telephone lines and rural power helped change rural lifestyles.
Today where we live is a personal choice, often to get benifits important to us: business or tax incentives, outdoor lifestyle, or family connections to a community.
Family is central to rural life. As adults grew and changed some  chose to stay and some moved on. Important community events both positive and negative events (accidents, crimes and deaths) that affect every community have been recorded here. We have also provided space for any past or future writers from our area in hopes that their words and pictures might help our understanding of our place.
Most of the early content is from the local book put out in 1974 by the Ferguson Flats Ladies Club. The site is maintained by the Elk Point Historical Society.
We hope that families, organizations and businesses will add their history to what has been gathered here. All original material has been marked by the Reminiscing Ferguson Flats icon

on the right of the page. Newer material will contain authorship information.