Albert's homestead was the SW. 15-57-5 and he filed on it in1908. He was originally from the Isle of Man and his two brothers Ronald and Reg also came to Canada at the same time. Reg lived on the quarter where Carl Nelson lives today. Ronald lived on the quarter cornering Fred Lorensons on the northwest. Later, his sister, Mrs. Reg. \Simpson, came to the district too. Albert worked around Lesser Slave Lake before coming here. He was a cook in a camp for a survey gang. This is where he met AIf McCrea, who was a draftsman with the same outfit. They became good friends and worked together on their farms for a few years here. In later years Albert rented his farm to Fred Lorenson and moved into Lindbergh. Here he lived in a little one roomed house until the time of his passing in 1954.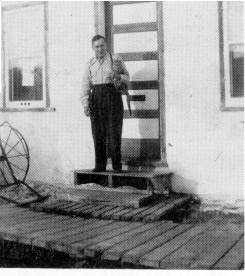 Albert Quayle on the steps of the Lindbergh Post Office.
The cart he hauled mail with is at the side.