Edward and I were married in 1945, Edward was in the army and I was teaching school at Frog Lake and living with my parents, Mr. and Mrs. William Smith, in their home north of Heinsburg. Edward got his discharge in the spring of 1946; at which time I was teaching at the Lindbergh School. At the end of June, we moved to our farm, S.E. 21-57-5 known as the Simpson Place. Charles our son was one year old, at that time.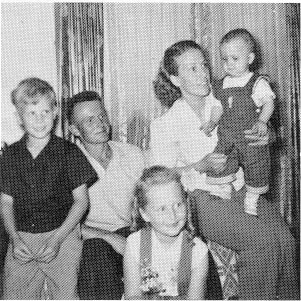 1954: Edward and Gwen Nelson with Charles, Ellen, and Amy Ann
We lived there for 23 years. During those years, Edward farmed with horses, then with tractors. We rode in wagons, buggies, sleighs, cutters, tractors, trucks, and cars. Edward hauled wood to residents in Lindbergh for years. Also, he cut wood for the schools at different times. I taught school for a couple of years but soon found out a farmer's wife, hasn't time for anything else but looking after the children and helping with the farm work.
As the years passed by we had four daughters, Ellen, Amy Ann, Elaine, and Brenda. A lot of pleasant memories can be recalled, fishing trips, berry picking excursions, going to whist drives, riding to school on horseback, picnics, and spending every Christmas at Grandpa and Grandma Nelson's with all the rest of the family that were able to be there. What good times we had, noisy, maybe, but fun. Even dishwashing had its merits, the men helped one year and left a pile of dirty dishes hid behind the big wood range. In the fall there came moose hunting trips combined with a visit to Irene and family in Dawson Creek.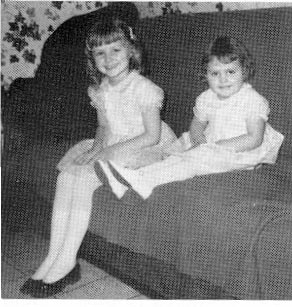 1963: Elaine and Brenda Nelson
Time marched on and changes came as expected. In the fall of 1969 we moved to the old home place where we are living today. Our children are gradually leaving home. Charles married Sharon Crosswell in 1967. They live in Sherwood Park with three daughters, Michelle, Tammy, and Jackie. Chris, their son died in the fall 1974 at the age of 9 months. Charles is an instructor for Alberta Government Telephones. Ellen worked in Calgary for several years, then in 1970 married Harley Seward of Welling, Alberta. They live on a farm just outside of Welling. Amy Ann married David Bullock also of Welling. They lived there for two years. This year they moved to 3 miles north of Heinsburg. They have a daughter,  Nickina. Elaine and Brenda are still home with us, both are attending High School in Elk Point.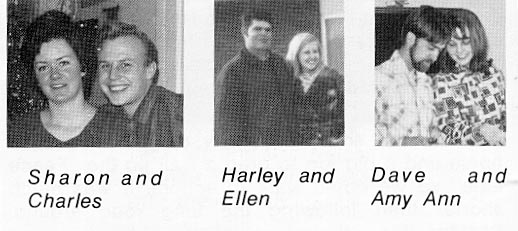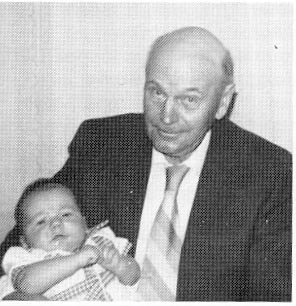 Chris Nelson with his great grandson Chris Nelson