by Mrs. H. Phillips
We, the Harry Phillips family, moved to the Ferguson Flats district in October, 1941, and lived on S.E. 9-58-5. Our previous home had been on our homestead about 12 miles east of Lindbergh. But there was no school there and as we had a number of school age children we had to move to where there was a school available.
It was still quite a few miles for our children to go to school and they had to be taken, or drive themselves. In the winter they had a covered cutter and managed to keep warm. We had eleven children and with the exception of the two youngest ones, they all attended school at Ferguson Flats. Our youngest was born in July, 1949, and we had our sale and left the district in the fall of 1949.
Our move then was to the Peace River country where most of our family still lives. We ourselves have retired and live in Okanagan Falls, B.C. Our eldest daughter, Leona, is deceased. Melvin, Marjorie, Cora, Myrtle, Opal, Rufus, and Russel all make their homes around Worsley. Otis lives at Ryley, Eunice at St. Paul and Theodore at Okanagan Falls. We have 34 grandchildren and two great granddaughters.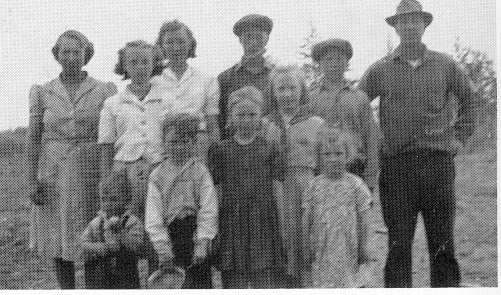 Phillips Family: Mr and Mrs Phillips on either side of children Marjorie, Leona, Melvin, Otis, Russel, Rufus, Myrtle, Cora, Opal.
Missing Eunice and Theordore
When we lived in Ferguson Flats the berry picking, especially the blueberries, was very good and we still like to pick some when we go out that way to visit friends. Of course, there were many good fishing trips too, and the fish were always plentiful. The years we spent there will always be remembered and we often speak about all our nice neighbors and the good times we enjoyed with them.
In September, 1974, Mr. and Mrs. Harry Phillips celebrated their 50th. Wedding Anniversary.