Otto and Elizabeth Shultz and their daughter, Louise, came to Canada from Germany in 1927. It was not until 1929 that Fritz Kummetz came over from Germany too. He and Louise were married in 1935 and they moved to a homestead five miles north of the Ferguson Flats school. They stayed here for five years and then they moved to a house on the Ben French farm, N.W. 35-57-5.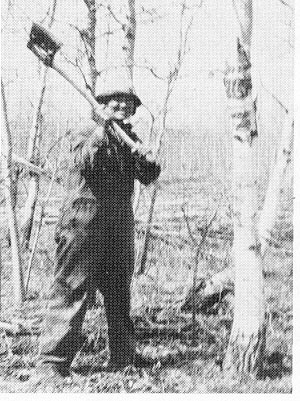 Mrs Shultz cutting down a tree.
Over the years, there were ten children born of this marriage. Waldemar, the oldest, and Roger James (Jimmy), the youngest, are both employed at a mill in Whitecourt. Bill does mechanic work and he and his wife reside in British Columbia. Annette and her family live at Bruderheim. Marie and her family are living in Elk Point. Bruno is a maintenance mechanic in a mill in Faro, Yukon, where he lives with his wife, Teresa (nee Martin) and two daughters. Judy, (Mrs. John Ockerman, Jr.) and family live on a farm in Flats district. Betty, (Mrs. Don Thomas) and family lives on a farm near Mayerthorpe. Fritzie works as a mechanic in a garage at Whitecourt. Linda, and family live at Fort McMurray.
Fritz and Louise resided on the Ben French farm for twenty-eight years. They have recently moved into Elk Point for their retirement. Mrs. Shultz, is also making her home in the town of Elk Point. Her husband passed away in September, 1970.