Mr. and Mrs. Clinton B. Ferguson and two infant daughters migrated to this district of Alberta from Lynden, Washington, U.S.A. the year of 1911, at the same time as his parents, Mr. and Mrs. W.R. Ferguson arrived here.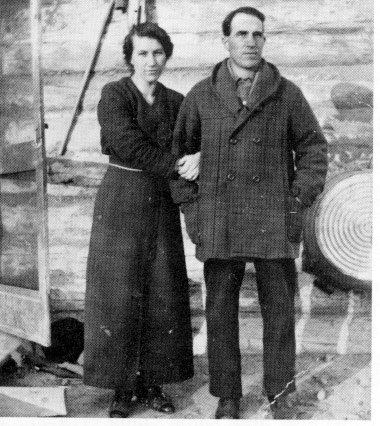 Alice and Clint Ferguson
They homesteaded the N.E. 1/4 of Section 34; Township 57; Range 5; West of the 4th. Meridian. Doing their homestead duties, then continuing to farm their land and part time they carried the Royal Mail to the Ferguson Flats Post Office. When his parents moved to Vermilion because of his mother's illness, the local Post Office was established at their home for a time.
During this time in an attempt to prolong the life of an infant son who was very ill, Mr. and Mrs. Ferguson with the ill son left their home travelling in a spring wagon drawn by a team of horses to the nearest practicing physician who resided in Vermilion, approximately sixty miles away. When they had travelled about one half the distance their child died in his mother's arms. The infant son, Merle, was buried in the Vermilion Cemetery.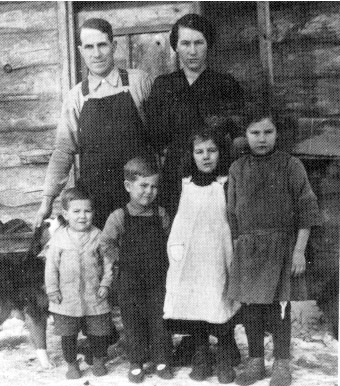 1920 Clint and Alice Ferguson and their family
Mr. and Mrs. C.B. Ferguson were always active in local social affairs and were known affectionately as Clint and Alice. Later, Clint Ferguson spent one spring and summer away from home plowing sod with a gas powered tractor. That fall he secured a threshing machine and threshed some grain when enroute to this district and finished the season with threshing in this area.
Mr. and Mrs. C.B. Ferguson and their four children, Mildred, Irma, Bud, and Thelma returned to the State of Washington in the spring of 1925. They travelled in an old Model T Ford car. Three members of this original family of four who migrated here have since passed away. Only their daughter Irma of this group resides in Yakima, Washington, U.S.A.