By Fred Lorenson
In the spring of' 1930 I moved to the Ferguson Flats district from north of Mannville. I bought the N.E. 9-57-5 formerly owned by Fred Wise. I brought my horses and some cattle. There were no buildings left on the place so I cut logs up the creek and built a log shack. Then I built a log barn as well. In later years the logs were covered with lumber and painted and the barn is still standing. In 1932 I rented the Sorenson half section. The farming was all done with horses the first few years.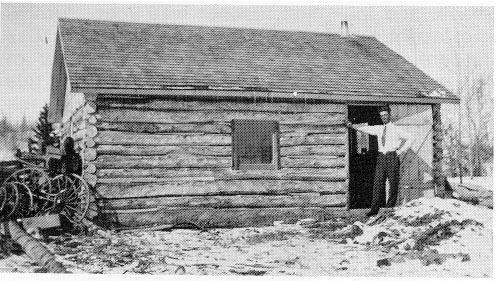 Fred Lorenson and his first log shack in 1930.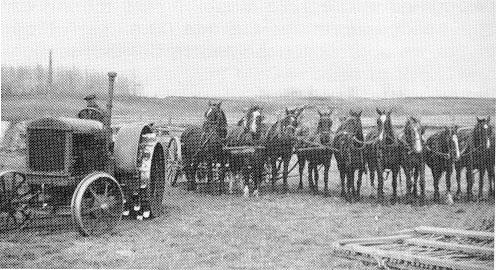 Fred Lorenson's farming outfits. Fred is on his first tractor - 15.30 McCormick;
Clarence Martin with four horses on the drill, and Laurel Davis driving the other six horse outfit.
On December 14th, 1935 I married Audrey Nelson. We have two children, Orval and Marian. They both went to school in the old Fern Chapel schoolhouse. In the summer they rode horseback on old Betty. We took them with a team and cutter during the wintertime. For a few years I was secretary of the local school board. I was one of the original directors of the R.E.A. who worked at getting the power into the Ferguson Flats district. Also belonged to the Farmers' Union and was secretary of our local for a while.
Hockey was a sport I enjoyed very much and I often drove to Heinsburg, Landonville or Elk Point, with a team of horses, to play a game on a Sunday. In later years we made a rink at Lindbergh and built a shack and played hockey there. Sometimes a hockey team from Elk Point or Landonville would come to play against us. We also had a skating rink on Frisby Lake for a few years. A granary, with an airtight heater served as our skating shack, a place to warm up a bit on a cold day.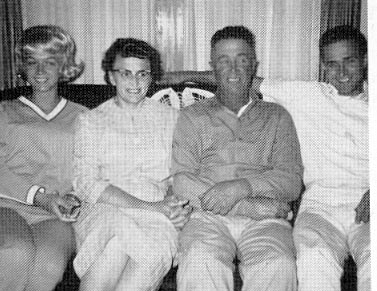 Audrey and Fred Lorenson with Marion and Orval
Our family soon grew up and went away to high school at Canadian Union College, at Lacombe. After graduating from C.U.C. Orval remained at the college, working in the furniture factory there. He married Darlene Steinke, a girl from Leduc. They live in Lacombe and have three boys, Myles, Troy and Landon. After Marian finished her high schooling at C.U.C. she attended college at Walla Walla, Washington. There she met Lee Harrell and they were married three years later in Eugene, Oregon. They still live in Eugene and have two children, Amy Christine and Nathan Edward.
In 1965 we bought a lot in Elk Point and had a house built on it. We sold the farm in1966 and moved into our new house in Elk Point, where we still reside.