by Albert Hammond
We left Hull, England in 1914, landed at Quebec, and on to Vegreville. Our family consisted of my father, Harry, Mother, two brothers, Ken and Raymond, sister Dinah, and I, Albert. I was the eldest and worked out the first winter and in the spring of 1915 went to St. Paul de Metis. There I homesteaded but later gave it up and went back to Vegreville til the spring of 1919. Then I rode up into the Ferguson Flats district and looked for a place there. A fellow, Bill Kruger had left his homestead there and I rode into Elk Point to see Charlie Markstad about it. He was the sub-agent for the mortgage company. I made a deal and it was the N.W. 33-57-5. There was a log house on the place but not finished. It was a storey and a half, and 16' x 24' and needed the windows and doors put in. There was a barn, a small sod roofed, log shack, a well and 14 acres of land broken.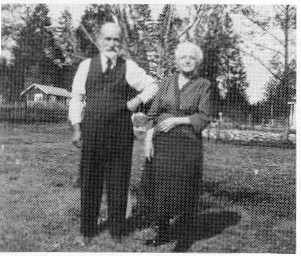 Mr and Mrs Harry Hammond
It was the end of March and I set to work to ready the house. I planned, after the crop was in, to go to Vegreville to bring the rest of the family up. My father was going to stay down there to keep a little money coming in to help out with the farm. But bad luck intervened and plans were changed. When the ground thawed, I plowed a fire guard around the buildings, but a fire came along and I was burned out anyway.
Later I went down to Vegreville and brought my mother and brothers and sister back with me. We had no house now but John McCune offered us the use of his, as he was not living in it at this time. It helped us out a lot. Well, I got a house and barn built again on my place and we moved back in May 1920. I started to break more land. Dinah and Ken went to school at Fern Chapel, and in the spring of 1921 my father moved up so we were all together again. So we farmed here, raised a few cattle and made our living.
In February 1928, I and Alta Gallagher were married. I and my bride-to-be left her home about 8 A.M. and at 12 o'clock drove to my homestea where my brother had a change of teams ready for us. The wind began to blow and by the time we got to Elk Point it was 58 below. We were married there, and after resting the horses we started for home. It was a cold drive home again and it was a day we never forgot. And like the story goes, we lived happily ever after.
We adopted a boy and a girl. Raymond was 11 months when we got him, and a nurse brought him to Elk Point on the train. There was a howling blizzard raging that day and the Rev. Whalley and wife took him and cared for him until we could get in to town, which was a couple of days later. Coming home I left Alta and baby at Laughlins while I went on home and warmed up the house. I went back next morning and we brought our new son home.
It was June when we got Florence and had to meet the train in Lindbergh this time. She was just three weeks old the day she arrived and we were so pleased with her. They both grew up to be fine children and we were proud of them. Raymond lives in Elk Point and has three children. Florence is in Edmonton and has two boys. The kids got their education at Fern Chapel. Alta used to drive them to and from school each day and it was 4 1/2 miles one way.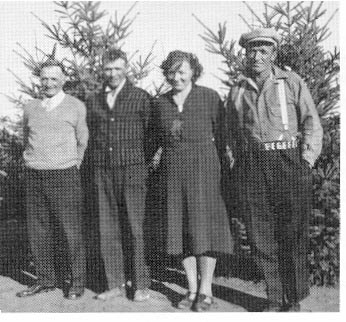 Albert, Raymond, Dinah, and Kenneth Hammond
In 1940 we moved to the place where I still live, just east of the old schoolhouse, and it was much easier for all of us. It was the fall of 1928 when, my parents and their family moved out for Lashburn, Sask. I and my wife stayed on with our farm and the first few years were tough ones. There was no road into my place and a big bog hole for a quarter of a mile. There was no chance to get a threshing machine in so I had to haul my crops out, which I did for seven years. One good neighbor I had was Joe Martin and he was as honest as the day is long.
Thinking of Joe reminds me of a little episode concerning his cattle. One day his milk cows were down by Moose Creek and came across a homesteaders still, which was a spring in the side hill. They cleaned up some of the barrels of mash that were fermenting there and you should have seen those cows that evening!  They were quite drunk and put on a real show.
In the early days we used to have a dance every week in the schoolhouse. Each family would take its turn at putting on the dance, and supplying the coffee, sandwiches, floor wax, and oil for the lamps. Others would bring cake and the local boys supplied the music. At supper time the hat would be passed around and whatever was collected would be given to the musicians for their effort.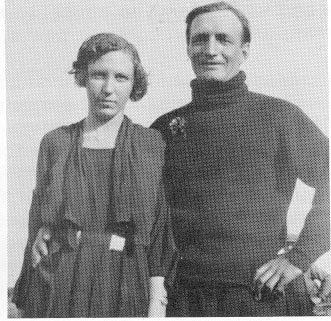 Alta and Albert Hammond
Those early years were hard as we had to haul our produce to Vermilion, and later to St. Paul as the railroad came in there in 1921. I used to haul wheat; hogs etc. for my neighbors so have made many such trips to St. Paul, up one day and back the next. The railroad came to Elk Point in 1927 and that made things a lot easier for all concerned. And of course we all remember the 'Dirty Thirties' and they were real tough times. Our produce was worth very little and we lived mostly on eggs and potatoes.
In 1934 I had no crop at all as I was completely dried out, no rain all summer. That fall looked pretty bleak to me as there was no crop, no money coming in and winter not far away. But my good friend Ben French came to the rescue, and offered me a grist of wheat to take to the flour mill at Bonnyville. He knew I couldn't pay him for it, but that was fine with him and I could repay him next fall. Next morning we started out for Bonnyville with our sacked up wheat and I only had $3.75 to pay for the grinding. The miller understood how things were and took some of the flour, the bran and the shorts for the rest of the payment. He never made any money on that deal, and I thanked him gratefully for his help. Ben and I have been good friends for the last fifty years and have worked together at all kinds of jobs.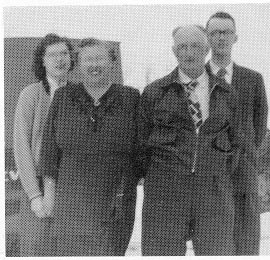 Mr and Mrs Albert Hammond and their children, Florence and Raymond
I forgot to mention the winter of 1919-20, it was known as the hard winter and it was a tough one. It started to snow on October 9th and it never thawed until the 5th of May. A  lot of cattle and horses died that winter, as there was so much snow and a shortage of feed. Feed was a terrible high price and in the spring the price of cattle fell and they were worth next to nothing. This broke a lot of farmers. But we were a tough bunch of stubborn guys and we somehow hung on. Times have changed a lot since then although I haven't changed much myself.
My wife, Alta passed away on April 27/57 and I now live alone on the farm. I still drive horses and never did get into the swing of this speed age. I've always been satisfied to go along slowly and enjoy life. I work as much as I want or as little. If I want to go fishing I have the time to go and if I choose to take a holiday I have time for that too. I am not a slave to this system and am happy and contented.