Mr. and Mrs. J. M. Ferguson - no relation to W.R. Ferguson   and family of nine children arrived within this area the year of 1928. They had bargained for a three quarter section abandoned farm with only a wire fence that was in poor repair around it.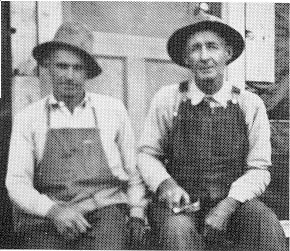 B B French and Jack Ferguson
They resided in tents while a habitable house and some other improvements were constructed. They farmed this land for several years. Eventually some of their children married and others received employment away from home. Later the younger children and their mother left for British Columbia, but the eldest son remained on the farm with his father until he sold it and had a Public Auction Sale of his property. They both then went to work out for wages.
Mr. Ferguson, Sr. spent the first winter working in British Columbia, but returned to Ferguson Flats in the spring of 1946. He decided to make his home and batch in the residence of Mr. and Mrs. B.B. French. Here he resided until his death from a heart attack while he was visiting at the home of Mr. and Mrs. Fritz Kummetz on June 25,1956. He was buried in the Ferguson Flats Cemetery.