Chris Nelson, originally from Denmark, was working at Vegreville in 1915 when he filed on his homestead N.E.  15-57-5. He had previously homesteaded in the Lake Eliza district but let it go in favor of this one in Ferguson Flats. He began clearing his land in 1916, but continued to work on Robert's Brother's Ranch at Vegreville, and also drove the mail stage from Vegreville to St. Paul de Metis. He brought some of his cattle up to his homestead and paid Albert Quayle $5.00 a head to winter them. 1917 was such a dry year that feed was scarce so he had to come up on horseback and take his cattle back to Vegreville.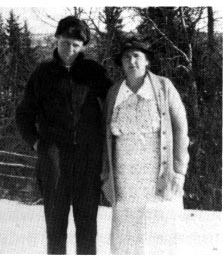 Chris and Amy Nelson in 1936
On June 12,1917 Chris Nelson and Amy Wise were married in Vegreville. This young couple moved to the one room log house on their homestead in Ferguson Flats in April 1920. Chris (hereafter referred to as Dad) had already made five trips bringing up machinery and other things. This trip, made with horses and sleigh, took three days. Audrey, just a toddler, "drove" the team for Dad while baby Edward slept in with the coal. Along with the coal, they had household items, and a few chickens in the back. Although it was April, there was lots of snow. When they met another team someone had to pull down into the ditch to let the other pass. One of Dad's horses always had difficulty in deep snow and would have to be shovelled out before he'd get on his feet and get going again. The first day they came as far as Brosseau, the second night was spent in St. Paul, and the next day they arrived at their new home. Mom and the children stayed with her parents, Mr. and Mrs. Arthur Wise, while Dad went back to drive up the cattle.
In the years that followed six more children were born in the log house on the homestead. Beulah arrived on Good Friday that was marked by an exceptionally bad blizzard. It was night when Dad brought Grandma Wise to the house to care for Mom and the two little ones. Then he went with a team through blizzard and drifts some seven miles to get Mrs. Miller, a midwife. He got her to our house in time to help with the delivery of this lovely baby girl. These early years meant lots of hard work, worry and hardships for our parents but we children were always well fed, well cared for, and very happy.
Audrey and Edward were not very big when they went with Dad to St. Paul to sell a load of pigs. They camped overnight by the Dogrump Creek. As soon as it was daylight the team was hitched to the wagon and they were on the road again so they could sell the pigs and get their shopping done. Dad had planned to take them to see a show but found out that there were only three shows a week and this was the wrong evening. Instead, they went out to watch the train, the first one these children had ever seen, switch cars. It was a frightening but wonderful sight! Audrey said, "I didn't like it when he backed into the separator!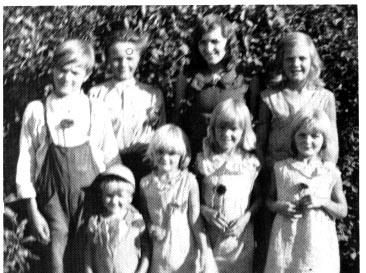 Nelson Children about 1933
Front: Neils, Hilda, Irene, Hazel
Back: Carl, Edward, Audrey and Beulah
Every winter a spring flooded the creek and provided a skating rink where we skated around big trees and brush piles. The fact that we didn't all have skates didn't spoil our hockey games one bit. We just wore our winter boots and slapped at the puck with our bent willow clubs that served as hockey sticks. Sometimes Dad would tend goal. His big felt boots were ideal shin pads, and a scoop shovel was his goalie stick.
Berry picking was a never ending job in the summer. The little kids picked in a cup, the bigger ones were expected to fill a syrup pail, and Mom and Dad picked into a large milk pail. It became a special outing when Mom packed a big picnic lunch, we loaded everyone into the wagon, travelled a few miles to the blueberry patch in the jack pines and spent most of the day there. Occasionally these outings were shared with Ockermans, or other neighbors, and we kids really had fun.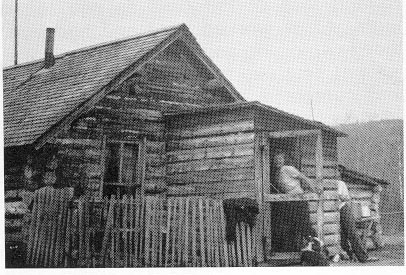 Our old log house - about 1940
Then too in the summer there were Sunday trips for the whole family, to the Gamier Lake. Mom would pack enough lunch, salads etc., for dinner and supper and we would load up in the wagon and take off in early forenoon. Usually the Ockerman and Dahlgren families would join us for these outings, and we had wonderful times together. There was good fishing for the older ones and us smaller kids would spend the day splashing around in the cool lake waters. We had great fun riding around on old logs that were floating there in the lake. There is nothing to compare with the taste of fresh fried fish at the lake, and we thoroughly enjoyed every mouthful. When evening came we would start off for home again. Us kids would snuggle down in the bottom of the wagon box and doze off as we rode home over the rough bumpy roads.
In winter the boys helped Dad cut ice blocks from Frisby's Lake, haul them home with team and sleigh and pack them in sawdust in the ice house. This ice was used all summer to keep the cream and milk cool.
On sunny Sunday afternoons some of this ice was chipped fine with an axe, packed into the ice cream freezer, and Dad started cranking. A gang of young people usually gathered at our place to play ball, tag and other games that were easily organized and required a minimum of equipment. Mom's ice cream recipe was the best ever and often she mixed two or three batches of it before everyone had their fill. A small smoke house stood on the side hill below the house. It was a chore to keep the fire smouldering just right all day long but we didn't' mind this job because it was easy to reach in and pinch off a tasty bit of smoked fish or meat.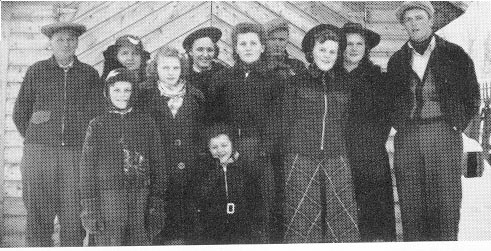 1942: The Nelson Gang
L to R: Mr and Mrs Nelson, Hilda, Audry, Hazel, Edward, Irene, Beulah, Carl
Neil, and Orval Lorenson in front.
When winter snow got really deep Dad used a horse and a big log to drag a trail up the "Fence Line" so we could walk to school. It was much shorter than following the long road around. Besides, this path was well sheltered by trees so it was a warmer route too. It didn't take us long, up hill and down, to get to school on a chilly day, unless of course, the boys stopped to check their trapline along the way. Sometimes, if a blizzard came up, or it turned extremely cold, Dad would come for us at school with a team and big sleigh. He might even have a hot rock, that Mom had kept in the oven most of the day, tucked under the cowhide robe to keep us warm.
As teenagers it was a real privilege to ride to Elk Point on top of a wagon load of turkeys which were ready for market. This was a long, cold trip for it was usually November. Roads would be frozen hard so that the wagon ride was even rougher than usual. Some years of course, there was enough snow at that time so a sleigh could be used.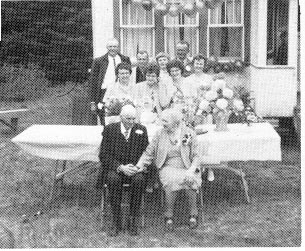 1967: Mr and Mrs Nelson on their
50th Wedding Anniversary with the family.
The building of a big, new barn in 1936 culminated with a barn dance. People came from miles around and there was a huge crowd. The music was lively and dancing continued most of the night. Great stacks of sandwiches were made for the free lunch that was served at midnight. Dad had purchased boxes of baker's bread and we girls were delightfully surprised when we opened the first loaf and found it was already sliced. We had never seen sliced bread before.
In June 1967 the family gathered at the big farm house, which was built in 1945, to celebrate Mom and Dad's Golden Wedding Anniversary.  Along with sons Edward, Carl and Neils, daughters Audrey, Beulah, Irene, Hazel and Hilda, most of the 29 grandchildren, and several great grandchildren; there were other relatives and many friends who came to share this memorable occasion.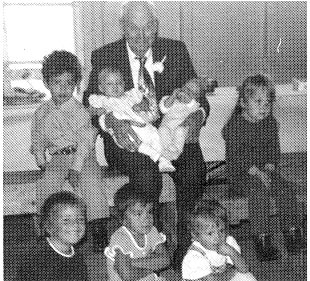 Chris Nelson and his great grandchildren on his 80th birthday.
Mom was laid to rest in the Ferguson Flats cemetery in July 1969. That fall Dad sold the farm to Edward and moved to a smaller house in Elk Point. Audrey, Mrs. Fred Lorenson, lives in Elk Point and they have a family of one son and one daughter. Edward is on the home place, married to the former Gwen Smith and they have a son and four daughters. Beulah,  Mrs. Ray Williams, has two sons and two daughters and lives in Edmonton. Carl farms in the Flats, married the former Olive Gallagher, and they have two daughters. Irene, Mrs. W.B. Melin, lives at Dawson Creek and has a son and two daughters. Hazel, Mrs. Clarence Hoard, lives in Lindbergh and has two daughters and a son. Hilda, Mrs. Bob Smith, lives on a farm in the Heinsburg district and they have six daughters and one son. Neils farms in this area, and is married to the former Mary Bartholomew and they have two sons and a daughter.