by Kathleen (Madden) Elson
In early November of 1925 Mr. and Mrs. James Madden and tour children, Kathleen, Bud, Patrick and John left the southern Saskatchewan town of Dummer on their way to Mooswa, Alberta. After a two day trip by train and car we located ourselves in an old log cabin, on a homestead, known as the Al Soper place.
This was our first introduction to a log home; one which possessed hundreds of peepholes for mice and insects of all types. It was a great place; we never suffered for fresh air as the fresh breezes blew through the cracks both summer and winter. To the four prairie children a sense of great mystery seemed hidden in the miles and miles of tall trees which covered the countryside at the time. The wild beasts we were expecting to emerge never did appear much to our disappointment.
On December 11, 1925, a baby boy arrived in the family. He was named Fred after Dr. Fred Miller who delivered him in the old Elk Point Hospital. On March 8, 1927, Dr. Miller brought into the world baby Eileen, who completed the family of six children.
After a few years and several moves we settled on a homestead which was located east of the school section which bordered on Frisby Lake. In 1933 we first attended the Ferguson Flats school and had John Homby for a teacher. The pleasant memories of those long ago days still linger on. The Ockermans, Nelson, Maclean girls, Taylor girls, Daniel Allen, Bartholomew brothers and many others along with us Maddens had scores of good times together. I don't remember much about the learning we did but I think maybe we gathered a little knowledge. That old school was the centre of many pleasant entertainments. I still remember the hilarious times we had at box socials and dances with good music nearly always provided by Roy Hatchard, Robert Bartholomew, Morris Saranchuk and of course some other members of the orchestra.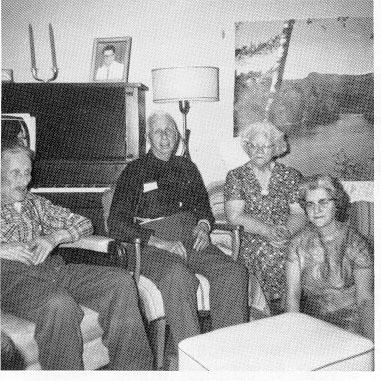 Mr Madden, Archie Allen, Mrs Madden and their daughter, Kathleen.
Since 1948 the members of our family have all been residents of other localities. In this year 1973 we are all living in Alberta except Fred who along with his wife and large family of nine children lives in Clearwater, B.C. Bud lives in Edson, Pat in Wildwood, Eileen in Edmonton, John and myself along with our parents are Mayerthorpe residents. Might I mention that five of us are grandparents.
Footnote: Mr. James Madden passed away in June, 1973.