We came from Amisk, Alberta to Ferguson Flats in November, 1948. The quarter of land we moved to was the Abram place. It had a one room shack and we had five children. In October, 1949, we moved to the Tom Allen farm, one mile north of the Flats school.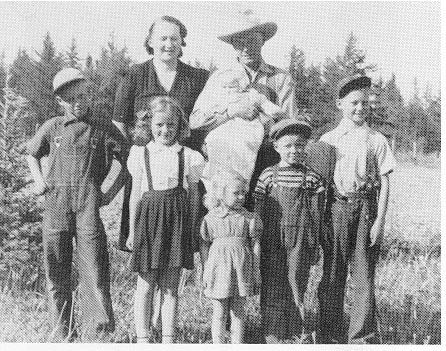 1949: Hazel and Arvid Gustafson holding baby Gary with Aldor, Iris, Fay, Adrien, Howard in front.
Two sons, Gary and Wayne, were born while we lived in the district. Aldor, Howard, Iris, Adrien, Fay and Gary all attended school there. Their first teacher was Mrs. Gwen Nelson, then Olga Mikietuk, Gertrude Engler, and Olga Ockerman  (Mikietuk) again. Grade nine was not taught here so Iris took her grade that year in Wainwright, while staying with her grandma, Mrs. Lundberg. Her grade ten was taken by correspondence course, supervised by Olga at the Flats School. For grade eleven, she stayed with Doris Sawchuk at Lindbergh. She rode the school bus from there to Elk Point High School each day.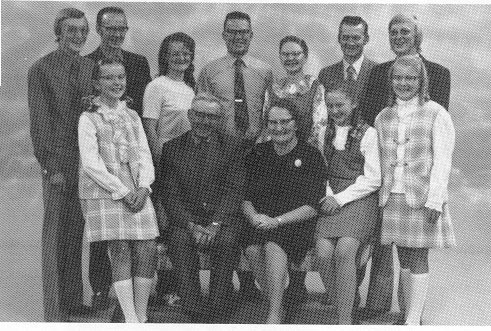 1971 Back: Gary, Adrien, Iris, Aldor, Fay, Howard, Wayne.
Front: Sandra, Arvid and Haxel Gustafson, Kathryn, Lynda.
In December of 1956, we moved to Ardrossan. Three daughters were born there, Kathryn, Lynda, and Sandra. We are presently residing at Sherwood Park, where Arvid is Maintenance Foreman for Sherwood Park, county of Strathcona. Our oldest son, Aldor, took a mechanics course. He married a girl from Edson and they have three boys and a girl. They reside in Athabaska where he has a Texaco Station of his own. Howard completed his education by correspondence and night school, and is teaching I.B.M. at N.A.I.T. in Edmonton. His wife is a school teacher from Ardrossan and they have twins - a boy and girl - and another son. Their home is at Ardrossan on an acreage there. Iris finished grade eleven and worked for the Bank of Commerce, for eight years. She married a man from Ottawa and they now live at Kitimat, B.C. They have two sons. Adrien works for Shaw Pipe Co. He is married, has two step-children, and lives at Ardrossan. Fay, upon completion of grade eleven, worked for the Bank of Commerce for six years. She has been working in the missionary field now for the past four years.  Gary completed his grade twelve and took a drafting course and is now employed by the government. His wife is a girl from Edmonton and they make their home there. Wayne completed his high school and is still single. He is employed by Dresser Industries as an Inventory Control Clerk. The three younger girls are still at home attending school.