HATCHARD FAMILY
Rex Hatchard came from the States in 1907 and homesteaded the S.E. 3-57-5. That is the quarter Neils Nelson lives now. He worked here by himself and then brought his family up the following year.
At that time the family consisted of my brothers, Clure and Hilliard, sisters Aroma and Opal and myself, Roy. Rex's first breaking outfit was a little team of mules, a small black saddle horse and a Jersey bull, with a 12 inch walking plow. No one had settled to the north of us yet. My brother Burrell was born in 1911 and was the first baby boy born in township 57-5.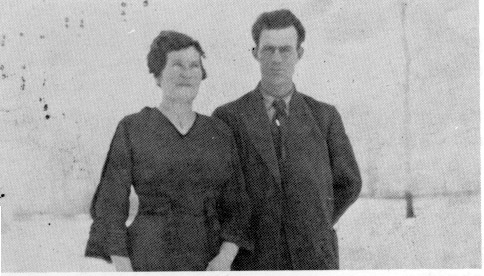 .
Rex and Emma Hatchard
I remember a picnic one summer, about 1912, at the Clydesdale farm in Ferguson Flats. There was quite a gathering of neighbors and friends and my sister Aroma and I were asked to entertain the group by singing for them. Some of the fellows piled wooden boxes or cases together and made a makeshift stage for us to perform on. Aroma and I stood up there and sang for them and I recall one of the songs was "Clementine". It was really not one of my favorites. That same evening a dance was held in Clydesdale's house. Tom and Bert
Allen had just recently arrived in the district and could both play the violin. So they provided the music for the dancing that night and everyone had a real good time. My brother, Clure, later bought Tom's violin from him for $14.00. He had this instrument for the rest of his life. Then I got interested in violin music and wanted to learn to play. So when Clure wasn't around I would sneak his instrument out of the house and sit out behind our ice-house and practise. I thought I was doing pretty good, as I was learning to pick out a few tunes----such as Turkey in the Straw and so on. When Clure eventually caught me with his violin he bawled me out good and proper, but later on he bought me one of my own. The first dance I ever played for was when I was about 14 and it was at the Fern Chapel School. I believe it was Clure and Opal who played along with me that night. I played for dances, parties or any other social gathering for many years in this area. And many are the miles I have travelled to play for dances elsewhere. Some of the others who played with me over the years are: My sister-in-law Bertha, Aroma, Burrell, Cohn Beswick, Mike and Dmetro Haverook, Harry Jenner, Robert Bartholomew, Walter Saranchuk and Eddy Koppang. There are probably others that I just can't recall at this moment.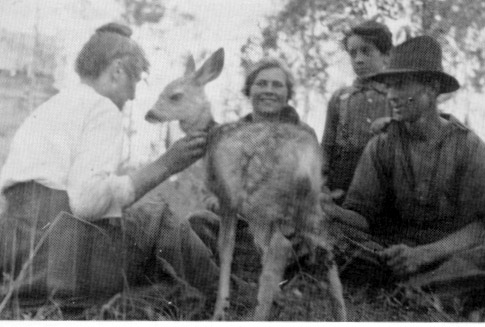 Mrs Hatchard, Aroma, Burrel, Rex Hatchard with fawn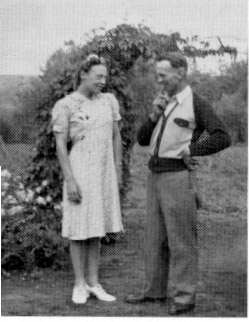 Peggy and Roy Hatchard
In the summer of 1940 I moved to the Charlie Bacon quarter. I spent that summer there living in a little shack and farming the land. Later in the fall I moved to the Dahlgren place and farmed both quarters. In the fall of 1941 Peggy Collin came to the district as the new teacher for Fern Chapel. I began courting her and helped her with the Christmas concert that year, by providing violin music for their musicaf numbers.
In the spring of 1942, May 15, we were married and had our wedding dance in the Spring Park hall. A daughter, Emma, was born in October 1943 and that same fall we moved to the teacherage in Lindbergh. Peggy taught there that term and Emily Lemecha worked for us and took care of Emma. In 1943 I bought the Ed Vincent quarter but we didn't move up til 1946. Peggy taught the Flats again for the 1945 term. A son, Clure, was born in December 1945 and we lived at Rex's at that time. After the New Year Peggy was teaching at the Flats again and drove back and forth to school with a team and cutter each day. I got our house built and ready to move into in the fall and Peggy still drove to school from there. Later Peggy taught at Rich Valley and Richland schools. I stayed on the farm and Mrs. Livingstone looked after the children for me much of the time. Then Peggy was hired to teach in Elk Point and she boarded at Lindquists that year. At the beginning of the next term, I left the farm and moved in to Elk Point too, with Peggy and the kids. Peggy taught there for seven years. I  was town cop for about two years; then worked as a cat skinner for Frank Keitges for three years. For about a year and a half I was working as an orderly and handyman in the hospital. In 1956 we all moved to Calgary where Peggy was teaching and I was a cook in the oil fields. Peggy passed away in 1966.1 am now retired and live in Lindbergh with Rex. Emma and Clure are both married, with homes of their own in Edmonton.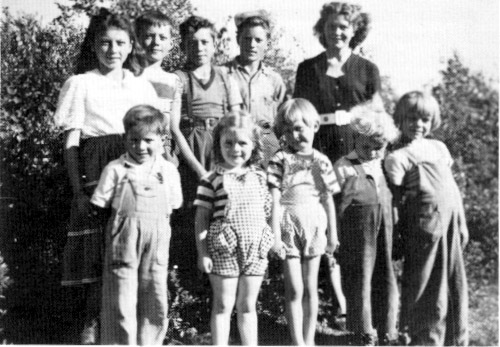 Back Row: Aroma, Shelby, Hugh, and Rex Hatchard, Effie Livingstone
Front Row: Dean Hatchard, Two friends, Clure and Emma Hatchard
Burrell and Mary Hatchard came to live in Ferguson Flats in 1949, on S.E. 10-58-5. Their children, Rex, Hugh, Shelby, Dean and Aroma, all attended school here. They lived here for a few years and moved elsewhere. Burrell passed away in October, 1970.