by May Ganton
I came from Washington, U.S.A. in April 1915 with my parents, Mr. and Mrs. John Salmon and my sisters Velma, Mildred and Wilma. The Fern Chapel school was built not too long before we arrived and that is where we attended classes. The teacher for my first term, April to December 23rd or 24th was Mr. Corbett. The pupils that I can recall that year were: Ray and Max Ferguson; Olive, Ethel, Herbert and Walter McGee; Earl Higbee; Louis Taylor; Dale and Hazel Groves; Mary, Margaret, Lewis, Fred and Edna Martin; and Velma, Mildred and May (myself) Salmon. We had many good times and it was quite a change for my sisters and I, as we had always lived in a city previous to our move to the Flats.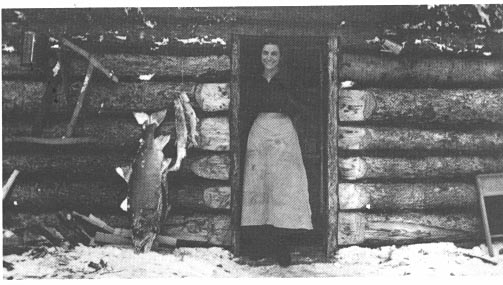 Winter of 1918-19: Mrs. Ganton, the  cook for the winter in Cold Lake.
Mr. Corbett was studying to be a doctor and taught school to help out with his finances. It seemed he had his mind more on medicine than he did his teaching. I remember one particular spelling lesson we had and one of the words was 'strychnine'. When he asked for the definition and one of the boys said it was a powder used to poison gophers, Mr. Corbett was not at all pleased with the answer. He was determined that it was used in medicine, therefore it could not be poisonous. The boys were getting a bit bored with the discussion so Max Ferguson told him he should go home and take a dose of strychnine and see if he was able to come to school the next day!
There were six bracket coal oil lamps hanging along the walls, three on each side of the building. These were used mostly for school concerts, dances or such gatherings that were held at night. The desks, several of which were homemade, ':were designed to hold two pupils. The old ink wells     set in the centre of the desk tops and were' 'handy to dip into with our straight pens, not to mention that they were sometimes very messy too. The   barrel-type heater had a shelf attached to each side, which was sometimes used for drying mittens. Often the top of the heater would be cleaned off with paper so sandwiches, if frozen could be thawed out, or just toasted. The school hours were the usual 9 a.m. to 3 or 3:30 p.m.depending on whether we had an hour or hour and a half for lunch. Recesses were the same as today. I don't remember just what year they started the term in September and ended in June. Sometimes the school would be closed for a week or more during the winter when temperatures were too severe or snow too deep. The holidays we observed were much the same as the statutory holidays of today.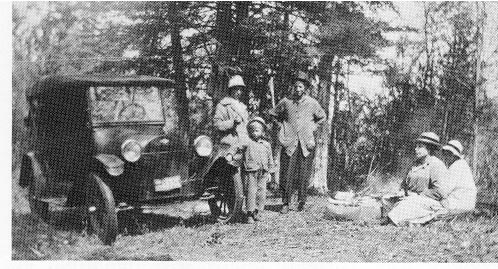 1920: May and Jim Ganton, Wima Salmon, Mrs Salmon, Mildred Salmon. Fishing trip to Garnier Lakes
Mrs. French and her mother, Mrs. Ferguson, used to play the organ for our school concerts and later on Mrs. Bartholomew used to help out too. The games we amused ourselves with were the usual variety that youngsters enjoy, but the all time favorite seemed to be 'Ante-I-Over as all could take part in this regardless of age or number. I don't recall kids trying to drown-out gophers in the early years as water was too hard to come by. We only had a couple of pails hauled each day and this was done by the boys who were doing the janitor work. Jim and John Sloan were batching on the quarter across from the school and they let the boys haul water from there.
There was a minister, Mr. Beamish, in the district the same time as Mr. Corbett and they lived   together on the place where Robert Bartholomew lived in later years. I often think about my old school days and wonder how many of my original classmates are still living. After I was married we lived on the quarter north across the road from the schoolhouse. Our oldest children, Ethel,Bud, Evelyn, Robert, George, and Helen all attended school in the same schoolhouse as I had. The younger ones, Kenneth, Raymond, Marion and Lawrence were too young for school when we left the district to move to B.C. I have made my home in  British Columbia ever since.