In the spring of 1935 we moved to the Ferguson Flats district. We had lived in the Landonville area since 1929 and had bought land from the Hudson Bay Co. It seemed like a good thing at the time and Ira said we should have our land paid for in three years. But at that time, we could not foresee the years ahead. The bottom fell out of the prices!  In those hard days we hauled oats to Heinsburg for only eight cents a bushel. We drove from house to house in Elk Point, asking one dollar for one dressed turkey. Qur cream was shipped to Derwent and a five gallon can would bring us a dollar and sixty cents. So the winter of ˜34-35 we decided to let the Hudson Bay have their land back and we would start over.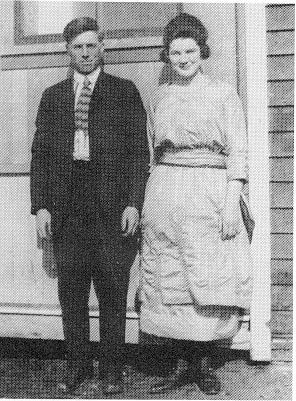 1922 Ira and Ella Livingston's Wedding Day
That was the year our daughter Effie was born, March 11 in the Elk Point hospital, so I wasn't able to help much with the moving. The land Ira bought, was the S.W. 10-58-54 and there were no buildings, fences or breaking on it. Bill Dunham got out the logs for our house and Ira bought the logs for our barn from George Abram. We had a real bad winter that year and a late spring. The first part of April Ira got an empty house and barn across the road from Ben French to live in until we could get our logs put up for our barn and house. Ira gave the job to Gallard Maxwell, but as summer went on, we found that he had gone to British Columbia. Then Ira told me to take Effie, the singer canary and its cage, over to my sister's (four miles north of Hopkins ferry) until he could get moved. We'd had a neighbor girl, Bess Traver, helping us so she went along to help paper and fix the house up to make it livable. It was alright for summer but we would have to move or have our own place before another winter as it was much too cold. Ira was there about two weeks before Effie and I came by train from Elk Point to Lindbergh. This was my first time in this part of the country and Ira said we had to go eight miles straight north. To me it was the crookedest road north that I had ever seen. But did it ever look good to see the house all set up with our previous household things and with supper awaiting us. At  that time we had twenty head of cattle, twelve horses, chickens and turkeys.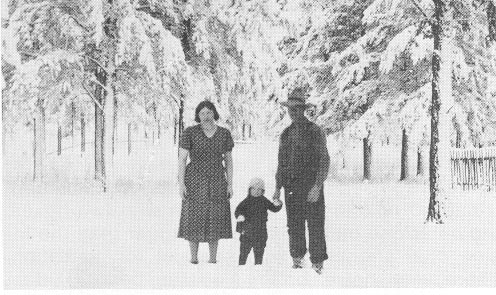 Ella, Effie and Ira Livingston 1937 Spring Snowstorm
We didn't get moved into our new house until October that year. Mr. Torvella put up logs for our house but we still had no barn for the stock. So we had some of our stock at Roy Gallagher's and at Mr. Dunbar's. We lost a horse, colt and cow from the cold as we didn't get the barn built til November. We liked it here as everyone was so friendly and there were lots of dances. Later on a ladies' club started up and we would gather at least once a month to work on things for a sale in the fall.
Lindbergh at this time had Palynchuk's store, Davis's store, Vic Ramsbottom's Hardware store and a dance hall. The post office was in the Davis store. That was a summer we sure did enjoy as there were lots of ball games, berry picking and fishing trips with the Frenches, in the high-wheeled wagon up the trails to the lakes to the north of us. Fresh fish was such a treat.
The first summer we spent in the district, there was a ball game just north of Mr. French's home. The ball team was pretty fair and we were surprised to see so many people turn out for the game. They came from miles around--Beaver Dam, Spring Park, Middle Creek and Lindbergh. Each summer we would have a pot luck dinner at the picnics. We made our own ice cream in those days. In order to have our ice, the men would cut it from the lake during the winter and haul it home to be stored in the ice house. These ice houses were built from rough lumber, slabs or logs, and had lots of sawdust in them to cover the ice with and keep it from melting when summer came. The ice would be hauled home with the team and sleigh in blocks about two or three feet thick and eighteen inches square. One block in an ice box would last about a week. Ira built an ice box of rough lumber and we could keep the milk and cream sweet for a week in it, and also used it to keep the butter from melting. It had no bottom and it was built with two boxes, the outer one being six inches bigger than the inside one, and filled with sawdust for insulation. There were shelves on the sides and boards laid on the ground to set the cream can on. The lid was made from tar paper and two-ply of boards with paper between. Getting up a supply of ice was like getting up wood, a job that had to be done every winter or spring.
Berry picking time was another time for a community get-together. We would make a lunch and make a day of picking in the berry patch. The ground was often blue with the blueberries and one year the cranberries literally covered the ground. Ira and I picked a twenty gallon crock full. We put them through the fanning mill to help get the leaves out. And sometimes we just let them drop, from about waist high, while fanning them with a cardboard. It was hard work to get rid of all the leaves and then of course they still had to be picked over for bad berries and such. That would take another evening around the table but there was great satisfaction when the job was completed, and they were put away for the winter. Then there were saskatoons, pincherries, chokecherries, wild raspberries and strawberries. In years when there was a good crop of wild fruit, everyone would preserve all they could in case another year they may not be so plentiful. It was a common sight to see twenty cars or more headed north and east, with their tents too, for a couple days of berry picking. Now that road is closed as the beavers moved in and dammed up the creeks, making it impassable.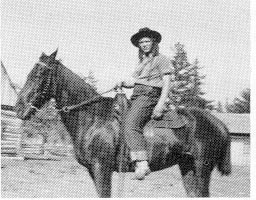 Effie Livingston on her pony Prince.
The fishing trips in the spring were always looked forward to as everyone was hungry for fresh fish after a long winter. This was a new experience for me as I had never snared a fish, but one day we started out with Mr. and Mrs. French and Joyce and the three of us. After a good lunch, we made coffee over the camp fire. Our fishing gear was snare wire and long poles. It was a beautiful day and we went to the North Gamier Lake and fished in a creek which runs from Muriel Lake. I'll never be able to describe suitably the excitement I felt when I landed that first fish at Effie's feet. She was terrified of it at first, but it wasn't long before she became used to it. Before the day was out, we had caught a nice number of fish to take home with us. We ate some fresh and smoked others, and no one wasted any as we were all too poor in those days. Another fishing trip I recall one summer was to the North Gamier Lake with Mr. and Mrs. Phillips and two of their children. It was a six mile drive and we went by team and wagon and crossed a creek on the way. We almost lost a horse in it, but finally came out, high and dry on the other side. We all started looking for a good spot to fish and I thought I had found mine at last. To get to it I had to cross a spot where I took hold of an old upturned tree root that had fallen over. When I put some weight on the root, it broke and of course I fell. I landed on my back in about four feet of water!  I had to undress and dry my clothes on a nearby tree. I wrung the water out of my nylon slip and put it back on, hung my clothes on a tree to dry, and started to fish. Soon Effie came running along and was near tears when she saw me sitting there with so few clbthes on. I assured her I was alright and that my clothes would soon be dry. Then I sent her back to the others to tell them not to come down until I got my clothes dried and on again.
In our earlier years in the district our nearest neighbors were Roy Gallagher, John Hillebrand, George Abram, R. Depping, Fritz Kummetz, Frank Dunbar, Dunhams, Salmons, Ben Frenchs and Bartholomews. The Ferguson Flats post office was at French's and later at the Dobson store, three and a half miles from us. The post office was taken out a few years later and we then got our mail in Lind
bergh, and we still do. It is hard to realize how things change over the years. Roy Hatchard and Burl Hatchard both lived a mile from us. Roy to the north and Burl east. Harry Phillips lived on the Roy Gallagher place and had a family of nine, so there were lots of children to go to school. When Effie was school age she went with the Phillip's children. They took our horse and buggy and Melvin, (their oldest son) would drive and look after the horse. When she got big enough to ride a horse, her Dad got her a half Shetland and half Welsh pony. And he was real stubborn! He was so small that when Ira would get on him, his feet would almost touch the ground. After a good licking, he would realize who was the boss and start off for school. When Effie was older Ira got her a nice horse and he used to win races at the Greenlawn picnic. And of course all the kids looked forward to the annual Christmas concert or party and there were many of them.
Ira and I are both pensioners now and have sold our farm to Johnnie Johnson. They have told us we can live in our house here as long as we wish, and you know that we both like to live in the Ferguson Flats district. On March 8th, 1972 we celebrated our fiftieth wedding anniversary. We are both in good health and hope to enjoy many more years with you.
Sincerely,
Ira and Ella Livingston