by Daniel Allen
In 1912 my father, Tom Allen, and his brother, Bert, came to Ferguson Flats from Chesley, Ontario. They took homesteads here; Dad's was N.W. 26-57-5-4 and Uncle Bert's was N.E. 35-57-5-4; but Uncle  Bert stayed only two or three years and then left. In 1913 Dad purchased three oxen for three hundred fifteen dollars which were used for farming. In 1919 he married Dolly McClain who also lived in the district. My folks milked five to seven cows and shipped cream which they took to Lindbergh and shipped to Vilna.
Tom Allen and his three oxen: Bright, Bob, and Star.
I, Daniel, was their only son and several years later they adopted a little two year old girl, Dorothy. We both went to the Fern Chapel School. I well remember one time swinging from the rafters in the porch at school and accidentally breaking one. The teacher told me I had to fix it so the next day I carried a 2 by 4 board to school which was a mile from home and nailed it into place to repair the broken one. I also remember a chiropractor coming to One of the neighbor homes where he treated many patients in this area. I went with my folks and when I saw one of the ladies taint after her treatment, that was enough for me. I ran away down the road to where my aunt lived, because I certainly didn't want any of those treatments.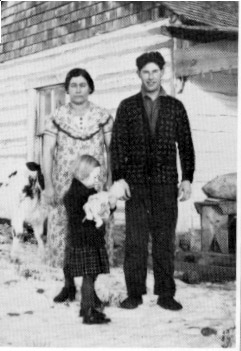 Mrs Allen, Daniel and Dorothy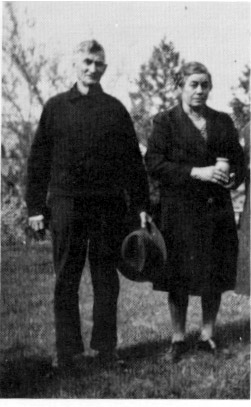 Mr and Mrs Tom Allen
In 1941 was called into the Army and served with the First Battalion Irish Fusiliers, for thirteen months and then returned home to the farm. We had a sale in August, 1947 and moved to Kelowna, B.C. We stayed there until May, 1948, and then returned to Ferguson Flats. In the fall of 1948 we moved into Lindbergh. I started to work at the Salt Plant Feb. 22,1950, my job there being a Gas Well Tender. I drive 75 miles a day checking wells used by the plant in the area. I deliver the mail from Lindbergh to the Salt Plant daily. I enjoy the job very much except for the stormy days in winter.
My Dad passed away in March, 1953, and after a lengthy illness, my Mother passed away in Sept., 1967. My sister Dorothy married Ken Doherty and they had two boys. They were living in Nanaimo, B.C. when Dorothy passed away in Sept.1969. Although I still live in Lindbergh and work at the Salt Plant, I also own land and farm in Ferguson Flats.