by B.B. French
Mr. William Roselle Ferguson was born in Racine, Wisconsin, U.S.A. on the 29th of August, 1866. He was an orphan. He once said, "I have worked alongside men in a work crew since I was twelve years of age". Mrs. Annie Ferguson, nee Chapman was born in Stanley, England, May 26, 1867. Annie and William were joined in Holy Matrimony in Kewanee, Illinois, U.S.A. March 10,1885, where they resided until about 1890. They then moved to Lynden, Washington, U.S.A. where they resided until 1911, when they and their two youngest sons moved to Alberta, Canada, and homesteaded the N.W. 1/4 of Section 35; Township 57, Range 5; West of the 4th. meridian, and also purchased two 320 acre blocks of what was then known locally as South African Scrip that was located one adjoining and one cornering their homestead.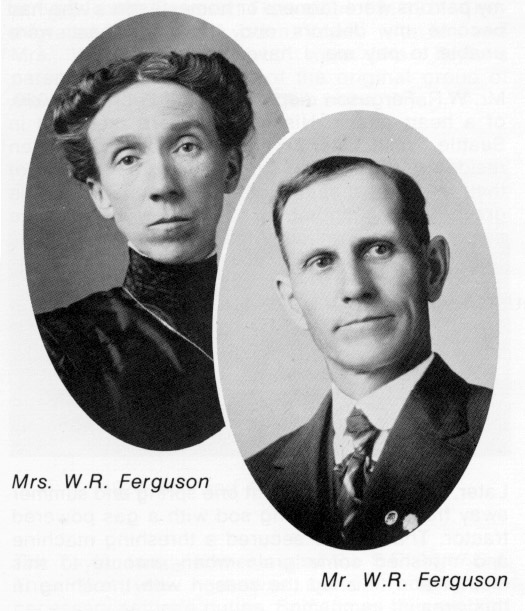 In 1911 Mr. and Mrs. Ferguson established a general store in a small way in an addition to their homestead home, which was later enlarged. In 1912 the Post Office was established within their home and named Ferguson Flats and W.R. Ferguson was appointed Postmaster. Although there were changes of Postmasters, the original name, Ferguson Flats, was retained until its closure 33 years later.
Migrating to Alberta from Lynden, Wash., with the W.R. Ferguson family were a group of seven other persons making it a total of 11 people who arrived here at the same time. The adults of these three families shipped considerable "Settlers' Effects" by railway to Kitscoty, Alberta from where they travelled overland to their above described destination. Arriving at this site, all of them lived in tents - the two other families homesteaded near the W.R. Ferguson land - commencing their homestead duties and with outside help during 1911 at times, several employees helped construct three habitable houses, some outbuildings on four 1/4 sections, corrals, a woven wire hog pasture, three water wells were completed, clearing land of bush and breaking sod, haying and other jobs too numerous to mention in preparation for future needs.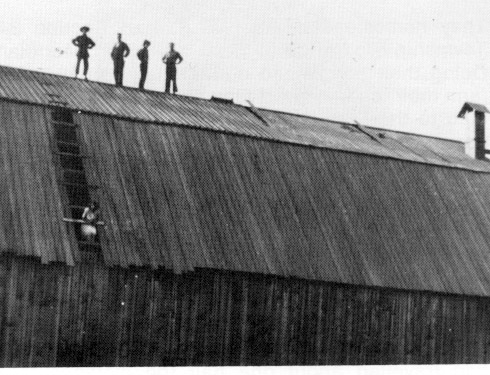 Ferguson's large barn
During their second year, the largest barn ever constructed within this area was ready for winter use. Its mow capacity for loose hay would be approximately 100 tons. The hay was hoisted tq the mow with hay slings and horse power. Another feature of this barn's construction was a storage space beneath the feedway floor. A livestock watering tank with a water heater, the largest ever constructed within this district, was ready for use. It was located so livestock could drink water whether fenced in enclosures or on the adjoining road allowance near the water tank. Water for the tank was supplied from the well by a pump that was connected with an air cooled engine.
Approximately the same time (1912), as the establishment of the Ferguson Flats Post Office, a Canadian Northern Railway map of a proposed railway was printed which depicted the W.R. Ferguson land holdings as being astride the mapped plan proposed location of this branch of the Canadian Northern Railway from Edmonton, Alberta, to Battleford, Sask. This branch of the C.N. railway was never completed.
Mr. and Mrs. Ferguson moved to Vermilion, Alberta because of her poor state of health and also to have their two youngest boys near high school. Mrs. Ferguson died here on the 11th. of September, 1918. A short time following her demise, Mr. W.R. Ferguson and his two boys, Max, the eldest, and Ray established a hardware and grocery store in Lavoy, Alberta where they resided for a few years. Just prior to his return to Seattle, Wash., U.S.A. he returned to the Ferguson Flats to visit his daughter and family-Mrs. Ethel Taylor. He said, "During the years I've been in business in Alberta I've sold too much merchandise on credit and because of the extremely low prices of farm commodities, most of my patrons were farmers or homesteaders who had become my debtors and though honest were unable to pay me. I have lost all".
Mr. W.R. Ferguson died the 2nd. of February, 1930, of a heart attack. His remains were cremated in Seattle, Wash. Later his son Max and wife who then resided in Edmonton, Alberta secured an urn of their father's ashes and placed them alongside the grave of their mother, Mrs. W.R. Ferguson in the cemetery at Vermilion, Alberta.