In the late 1890's when the Canadian Government began to advertise in many parts of the world for settlers for Western Canada, considerable enthusiasm was created among farmers within the area of U.S. where I was raised namely, Stillwater, Oklahoma. Many were so enthused by it that it caused an imaginary malady, nicknamed jovially, of course, "Western Canadian Fever."
Though young, I noted a number of my acquaintances had migrated to the Canadian Land of Promise and had written friends and relatives with little else than praise concerning it. A neighbor of ours had travelled by train from Stillwater, Oklahoma, to Edmonton, Alberta, and then hired a man with his horse team and spring wagon to drive overland from there to Prince Albert, Sask. from whence he returned to his farm home in Stillwater. Shortly after his arrival home, he visited my parents and related his experiences concerning his journey to Alberta. We were satisfied that his descriptive narration of his trip was as true as it was possible for him to describe.
After listening to his observations, my case of "Western Canadian  Fever" became worse. I reasoned that somewhere within Western Canada there would be a suitable 160 acre homestead that could be secured for the initial cost of $10.00 and later patented on conditions set out in the Dominion  Lands Act. Another attraction for prospective settlers were the low passenger fares. All these factors seemed moderate and were the main incentives guiding my later migration to Western Canada.
Prior to my final decision to migrate to Canada, and with my parents permission during slack periods of time on their farm I ventured away from home to, if possible, find work for wages. My first venture was a complete failure with no job. My second venture was a ten day threshing job, and after travelling expenses were calculated, the debit was 5Oc. On my third job in a railway yard, I received $1.65 for a 10 hour day, and at the only available boarding house the costs per week were $4.50. During this time I had many adventures, met many types of people and gained considerable experience.
On March 12,1912 my baggage was packed. The north bound passenger railway departure time was 4:30 P.M. After our noon lunch at home that day we said our good-byes; not knowing what the future had in store for us, nor when we might meet again-though it happened I returned home about four years later for a visit.
My father took me and my baggage to the railway depot where I requested a ticket to Vermilion, Alberta, Canada. The agent informed us that Calgary and Edmonton were the only two Alberta towns he was authorized to issue railway tickets to for passengers. I paid for my ticket to Edmonton. During a short stop in Winnipeg, I renewed my baggage checks from Edmonton to Vermilion but failed to have my passenger ticket renewed. I concluded it would be easy to keep awake until I reached Vermilion, then I would detrain and explain the situation to the railway conductor. Unexpectedly, I fell asleep and awakened suddenly as the train was nearing Minburn. I hurriedly located the conductor and explained my mistake. He understood and advised me to go to lnnisfree, Alberta, where there was a hotel. And he added, "There's nothing here". I looked through a clear spot of the otherwise frost covered window and saw nothing but snow. Now I understood the reason for the restriction of ticket sales to small railway towns. They had no accommodation for railway passengers when detrained during inclement weather.
It was about 4:00 A.M. when I registered at the Innisfree hotel. Next afternoon I boarded a mixed train for Vermilion. The following day, Grover McClain came from north of the Tyrol Post Office to take me to his parents new homestead home. We visited his brother-in-law for about a day and a half who resided about twelve miles northeast of Vermilion. Then we left for his parents' home. It was March 20, but still there was about 5 inches of snow on the ground.
From then on, until early fall, I worked part time for them, for myself and for others, and then moved my ox team and my other worldly possessions to Han Jessens. I helped him dig a well but there was no water at the 24 foot depth. I also helped him build a log barn. He and I exchanged work on buildings. On the 27th of March, 1912, travelling by team and spring board wagon I journeyed to the Sub-Land Agency at Frog Lake and made application for Homestead entry. The SW 1/4 of Section 35; township 57; Range 5; West of the 4th Meridian was selected as my homestead. During the early winter,Jessen and I worked almost every day doing homestead duties, plus one trip to Vermilion for necessary supplies. During spare time the previous summer I had built a homestead shack of logs and had dug a water well. I was unable to purchase enough lumber for the roof of the shack until a short time before Christmas. I bought rough lumber, built a roof and then moved into the shack. From then forward, there was a surplus of work at every turn. Being busy, the winter passed quickly. When spring arrived I had to leave the homestead to find work for wages. I secured a job at the Demonstration Farm in Vermilion. Prior to leaving for work I had bargained with Lewis Blacker to do 22 acres of breaking for me which he did. I had fenced the homestead with 3-wire fence as most of my near neighbors had done, purchased the wire at W.R. Ferguson's General Store at $2.45 per 80 rod roll.
Almost all the homesteaders were steady workers and never found work in short supply. Within this area over the years I held many different positions which included: Road Foreman; Municipal Councillor; District Registrar of Births, Marriages and Deaths; Commissioner of Oaths; Deputy Returning Officer for some elections; a member of the Fern Chapel School Board and also delivered mail to the Post Office.
The blacksmith shop that was intended for my own personal use, was more often used for the benefit of the neighbors, as I made and mended sleighs and cutters, shod horses; repaired wagons and machinery; and also made three wooden legs of knee height.
In the early days I was the neighborhood barber, and the chair might be a dry goods box or a tree stump. On one occasion a pair of sheep shears were used because there were no barber shears on hand.
There was, of course, much construction, and I assisted on approximately 87 buildings within the area. I built a number of culverts, repaired some and helped on many roads in the area, often exchanging jobs with some of the neighbors who did other tasks for me, but there was never cash involved in the process.
Mrs. Ethel Taylor; nee Ferguson, and I were married in 1931. We arranged to reside on her parents' homestead which was then her home. The Ferguson Flats Post Office was established therein at the time and Mrs. French was Postmistress. She had been granted the mail contract from the nearest Distributing Post Office for twice weekly mail service delivery to the Spring Park, Ferguson Flats and Primrose Post Offices.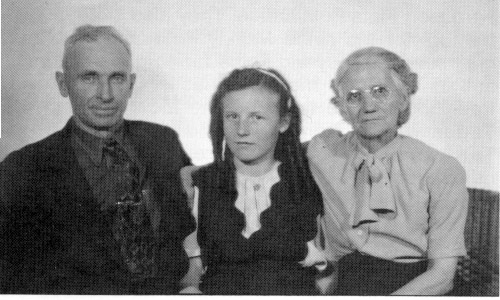 Mr and Mrs BB French and Joyce
With the voluntary assistance of some of our neighbors,  some  necessary  buildings from  my homestead were moved to the new location for our convenience. The deteriorated condition of the original house which was now our home forced us to construct another house. During the 32 years of its existence, it had been used for neighborhood assemblage, such as school meetings, voting precinct, parties, church services, store, post office, and even a funeral service for a Mr. Wm. A. Brown who had lived here in the district and passed away in the hospital, conducted by Rev. Whaley in Dec.1933. Many school teachers had found a home away from home within this edifice and hundreds of people of many nationalities throughout the early years who called were respectfully treated. We commenced construction of our new house in the spring of 1943. With the assistance of some of our neighbors and working at it most of our spare time we managed to move into our new, though unfinished, home in the late fall of 1943, and continued working on it when we could.
Because of Mrs. French's health we arranged for a Public Auction Sale in March, 1945, and decided to move to Kelowna, B.C. We reserved some household goods in case it became necessary to return to Alberta. In the meantime the farm was rented to Mr. and Mrs. Fritz Kummetz who had previously worked for us. They resided here with their family for 28 years.
We shipped some household goods to Kelowna in July, 1945.1 remained in the district to help Mr. and Mrs. Chris Nelson in the construction of their new home while Mrs. French and Joyce, our daughter, who was then 12 years old, left by train for Kelowna where they resided with Mr and Mrs Raymond Buhman and family until I arrived there in the fall of that year. We then rented a house that had to be repaired to be habitable and moved in there for the winter. Thereafter my jobs were many and varied but most of them were in construction, while Mrs. French cared for the home and Joyce attended school there.
Mrs. French passed away in Kelowna, B.C. on July 30th, 1957. She was buried in the Kelowna Cemetery. Joyce was then employed in an office there and I, too, was employed in Kelowna where we continued to live. We were both busy at work on the job or at home and had few idle moments. We had good neighbors who helped to overcome difficult times.
Joyce was married to Mr. Thomas C. Tribe on Sept. 30,1963 in Kelowna where both were office employees at the time. They now reside in Penticton. Tom is employed by the Federal Income Tax Department there and Joyce has retired from office work after 18 years. I have continued t6 spend my winter months in Penticton with Joyce and Tom but each spring I return to my farm in Ferguson Flats where I continue to keep myself busy with a variety of jobs.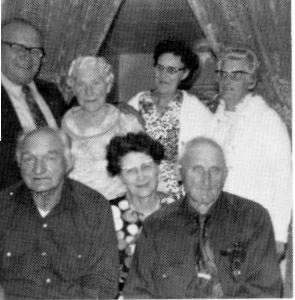 1973: Mr French's 80th Birthday
Seated: Albert Hammond, Letha Johns, Mr BB French
Back Row: Roy Hatchard, Mrs Suddaby, Aryness Keller, Edna Darling