by Velma Wise
I came to the Ferguson Flats district in the spring of 1915 with my parents from Washington, U.S.A. in 1918-1920.  My dad and Charley Dahlgren decided to try commercial fishing at Cold Lake. It was hard, cold work but it helped out financially. Charley and I were married in 1920 and lived on the S.E. 23-57-5. We bought our first cow from Mr. Evans of Mooswa. She was an 'elderly' Holstein and very patient, which was a good thing. We both learned to milk her, one on each side, and she never once complained.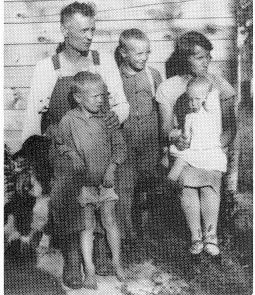 Charley Dahlgren, Jack, Tobert, David beside the Dahlgren house on the farm
Dad finally quit the fishing but Charley and Chris Nelson carried on for a few years with it. Times were hard in those days but we all enjoyed a lot of good times together. Charley played the accordion and was always in demand for parties and dances during the winter. We all packed into sleighs, with hot rocks at our feet, and thought nothing of travelling fifteen, or twenty miles to a dance. There were no baby-sitters in those days and the kids all went along. In the summer there were always picnics to attend and good fishing in the Gamier Lakes.
We had three boys and one girl; Jack, Robert, David and Marjorie. They all live in British Columbia now. Charley passed away in 1929.
Eddie Wise came into my life in 1934 and we were married. Edward Chris Morgan was born the next year. The following year we moved to the Okanagan. There our two girls were born--Rita Jean and Joyce Audrey Eileen. Eddie joined the Veterans Guard and was seldom home, being shifted around the country in his capacity of cook. We moved to Port Moody, after a while, where Donna was born. Jack and Robert worked on the boats there or in the mill. This is where David and Marjorie finished their schooling. Bob joined the army and went overseas. Jack joined up later but did not get overseas.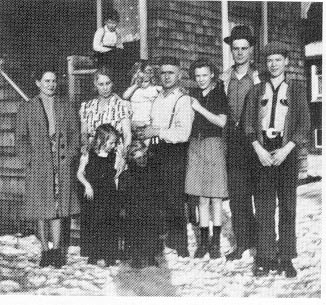 1943: Esther Lumley, Velma and Eddie Wise, Marjorie Dahlgren, Bud Lumley and Wilbur
Teddie Wise at the back and the three girls: Jean, Joyce, and Donna.
Eddie passed away suddenly in 1947. Jack lives near Lumby in his 'beloved' bush country. Bob and Rose live at Sechelt; David and Thelma are at Haney. Marjorie and Don live in Port Coquitlam. Ted and Islay are in Manitoba, Jean and Jim make their home in Kelowna and Joyce and Dick at Revelstoke. Donna and Tom reside in Prince George. I am living at Maple Ridge, at the coast.