Arthur Ashby was born in Fiske, Saskatchewan. He lived with his father who homesteaded  in Rosetown. They moved to the Calgary area in 1925 and stayed there until his coming to Lindbergh. Here he worked for the Young family, helping them with their farming. He married Sophie Bodnar in July, 1940. She was born in Poland and came to Canada with her parents, who had settled in the Primrose district. Art worked several years in Lindbergh, draying for the town. In the spring of 1952, they moved to the Ferguson Flats district where they farmed.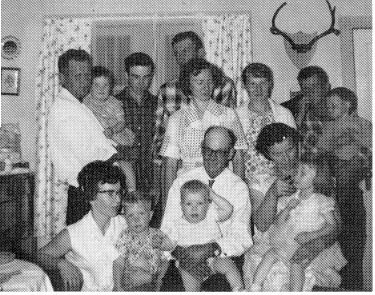 Seated: Shirley with Gary, Arthur Ashby with Marion, Sophie with Darlene
Standing: Mike Bodnar holding Christine, Henry, Eddie Hillebrand and Ella, Hosephine and Harry Bodnar holding Johnny.
Their home, which was made mostly of logs, burned down in July, 1954 and they lost most all of their possessions. While a new house was being built, they lived with the Lien family. They moved into the new house that fall. It was just a shell of a building but they got it finished during the year. They lived there for several years but eventually moved to S.W. 26-57-SA to the main bus route. There they built a new house and continued to farm. Art did some logging as well. He lived here until his passing in 1969. Sophie now lives in Elk Point.
There were three children in the family; Ella, Shirley and Henry. Ella married Eddy Hillebrand and they have five daughters and one son. They live at Ft. McMurray. Shirley married Arnold Ockerman and they have a family of five children. They farm in the Ferguson Flats district. Henry married Nellie Moorehead and they have two daughters. They reside in Lloydminster.