by Elizabeth Suddaby (Stewart)
I was born in Ontario and was six weeks old when my parents came to Alberta in 1898. They took up a homestead at Beaver Lake, west of Vegreville. I took my schooling at Beaver Lake and Vegreville High School.
In 1919 I taught school near Ranfurly, and chummed with Bertha Dennis of Mooswa (now Lindbergh). She was staying with her aunt, Mrs. Ralph Ramey. Bertha wanted me to go and visit her at her home so I told her I would if she could get a school for me to teach. I got a call from the trustees of the Fern Chapel school to come up in April. They only had school from April to Christmas, and two weeks holiday the first part of July.
I took the train from Mundare to Kitscoty, and stayed overnight. Next morning I went with the mailman to Lea Park and spent the night there. There were no bridges at that time, so we crossed the river on the ice. I went with the mailman the next morning to Frog Lake. We had dinner with Harry Bowtells, then on to Mooswa with the mailman. From there I rode with the Ferguson Flats mailman to my destination. This was all done with horses of course.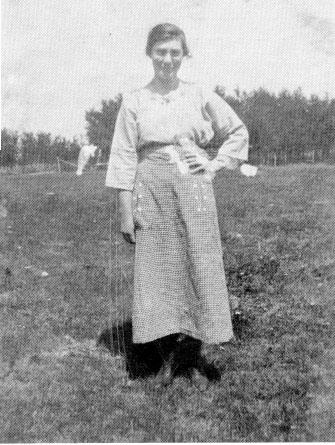 Miss Elizabeth Stewrt when teaching at Fern Chapel in 1920
My boarding place was at the Bob Taylors. I had two miles to go to school. Taylors also had a store. Clint Ferguson lived across the road and they kept the post office. Bert Eyes also lived close by.
On July 1st, the Bob Taylor family, the Bert Eye family, White Wilson and myself went to the Indian Reserve on treaty day. We took a picnic lunch with us. For entertainment there were horse races and other sports. Later on, I bought myself a horse and started riding it to school. One night as I was leaving the school, my horse bucked and the saddle turned, throwing me off. The fall broke my collarbone. Bertha Dennis and Clure Hatchard took me to Elk Point to Dr. Miller. He has doctored all these years in Elk Point and passed away recently. I missed some school for a while but soon learned to write with my left hand.
The Wise family were also friends of mine as I knew them at Vegreville. Bert Eye had to go to Vermilion, so he said he would take me with him, when I was going home, just before Christmas. When we were crossing the river one of the horses broke through the ice. It took so long to get the horse out, even with others helping, that we went back home. Next morning we started out with a fresh horse. It took us two days to get to Vermilion
The next year, 1921, I taught school at Aplomb, south of Lavoy. There I met Ernest and we were married in November, 1921. We farmed south of Lavoy until 1956, then we sold our farm and moved to Donalda. We had no family and we celebrated our 45th wedding anniversary in 1966. My husband passed away in April, 1967. I still reside at Donalda.